Last updated: 12/1/99!
---
UPDATES: Check out the News page. There is a poll to see what you want Xena's little bundle of joy to be!!!!
Take a chance

Characters
Fun Stuff
Links
!
---
Hi! I am Andronikki 1/2 sister to Hercules, here to guide you around this page. Here is where you can go until my story is up. Have fun!!!! Can you believe I actually updated the Page??!!!!
THIS IS A SIDEKICK FRIENDLY SITE!!!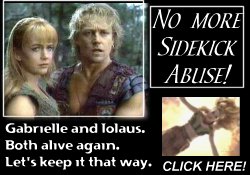 LE FastCounter